I'm jumping on the bandwagon and signing up for a two month pledge on wardrobe refashion.
For those of you that don't know about the site here is some blurb,

"Wardrobe Refashion is a community which has had an online presence since early 2006.
Based in Melbourne, Australia, owner Nichola Prested started up the site after deciding to quit buying new manufactured clothing in a bid to do her part for the planet, save money and improve her sewing skills. Participants of the blog pledge to abstain from the purchase of new manufactured clothing for the period of 2, 4, 6 months or LIFE.
They pledge to refashion, renovate, and recycle preloved items with their own hands in fabric, yarn or other medium or make their own from scratch.
Those who fall off the wagon must confess on the blog by displaying a 'Get out of Refashionista Jail FREE' card.
"
And a link,
http://nikkishell.typepad.com/wardroberefashion/
And here is my pledge
I Catherine pledge that I shall abstain from the purchase of "new" manufactured items of clothing, for the period of 2 months. I pledge that I shall refashion, renovate, recycle preloved items for myself with my own hands in fabric, yarn or other medium for the term of my contract. I pledge that I will share the love and post a photo of my refashioned, renovoted, recycled, crafted or created item of clothing on the Wardrobe Refashion blog, so that others may share the joy that thy thriftiness brings!
Signed Catherine.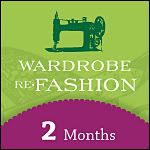 Now, I do fear that I may not be taking the pledge in completely the right spirit. The fact is that I love shopping and I love new clothes. All my good intentions about fair trade, anti-sweat shop and sustainable clothing have as yet failed to materialise into any action other than an avoidance of Primark. I actually timed my pledge so that it didn't fall over the January sales or my birthday in May. Both prime clothes buying events. The reason I have signed up is explained below.
This is my stash and I have added to it since. It is taking up a significant corner of my bedroom. On top of this I have a folder bursting with designs and a load of dress patterns that have not yet been touched. I have taken the pledge because what I need is the motivation to get some projects finished. Hopefully one a week.
Wish me luck x